How to connect to the internet using WiFi - Tutorials (Ordissimo v4)
---
Together, we are going to see how to connect your Ordissimo to the internet step by step using WiFi. But before we get started, take a look at your hub's user guide as in certain cases, you might need to 'identify' your Ordissimo with your hub. 



1

Click on the Wifi button.
To get started, click on the 'WiFi' button located on the bottom right of your home page.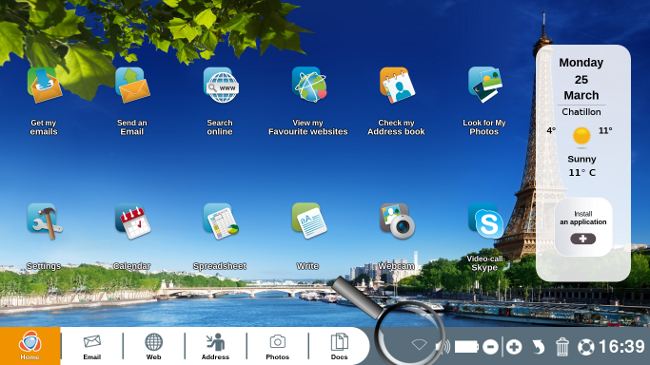 2

List of networks 
The list of available networks will appear. Click on your network name. 
If the hub that you would like to connect to is not in the list, click on 'More Results' to see other networks. If it still doesn't appear, wait for a few seconds or move your computer close to the box.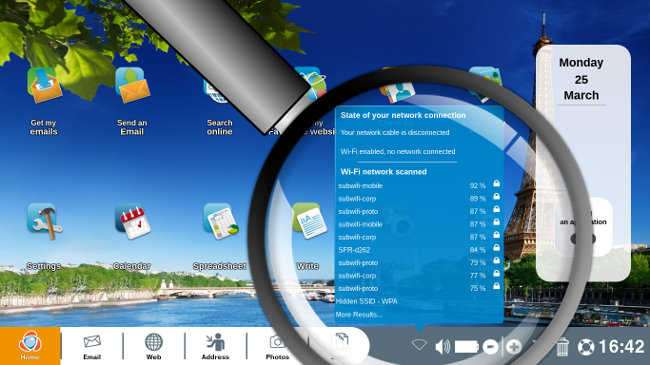 Important: the networks are listed in a certain order. The network with the best quality signal will be at the top of the list and the worst at the bottom.

 You might notice that certain networks have a padlock symbol next to them, which means that they are password protected.
3

Enter the password. 

If a password is required, a window will appear and you can enter the WEP or WPA key (a series of numbers and/or letters which correspond to my WiFi modem and which are normally written on the hub). Then click on 'Connection' so that this information can be saved.

 
4

Connection in progress 

a. The connection.
A series of messages will appear on the screen: 'Connecting...' 'Associated, obtaining address', 'Connection succeeded! ' 


b. Check the internet.
To make sure that the connection is working, click on the 'Web' button. 

 
5

Ordissnaute.com homepage

If the Ordissinaute.com home page appears, everything is working and I can use the Internet.

If you receive the following message: 'Ordissimo cannot be found', check your modem's settings and if it is plugged in correctly.
Now it's your turn to try and connect to the internet using your WiFi connection!