Choosing the right printer for your Ordissimo - Tutorials Ordissimo (Ordissimo v4)
---
Compatibility :

A printer is an indispensable addition to your Ordissimo.
Sometimes it's helpful to print a document that's too long to read on the screen, a form for filling out, a receipt or photographs!
With the help of a multifunctional printer, you can also scan documents and send them by email or put them on a USB flash drive.
Together we will see how to access the documents to check the compatibility of your printer with your Ordissimo.
1

Questions to ask yourself before buying a printer.
Is it compatible with my Ordissimo ? (The most important question) A list of printers that are compatible with your Ordissimo is kept up to date on this page.
How will I connect my printer to my Ordissimo (USB cable, ethernet, wifi) ?
Is there a small screen for configuring my printer ? (printers with small screens are much easier to set up)
Inkjet printer (ink is shot onto the paper through tiny tubes; the quality/price ratio is unbeatable) or laser printer (uses a xerographic printing process to obtain high quality prints for a lower cost per page ; the printer itself is much more expensive) ?
Basic printer (reasonable price) or multifunctional printer (higher but not necessarily unreasonable price) ?
How many ink cartridges does it have (if printing documents, it's best to have one black and white cartridge and one color cartridge. On the other hand, printing photos works best with one black and white cartridge and three color cartridges)?
Is printing on both sides manual or automatic ?
2

Connect your printer to your Ordissimo.
Connecting your printer via USB: a Type B USB cable is required and isn't typically supplied with the printer
Connecting your printer via wifi: if the only way to connect your printer is with WPS (Wifi Protected Setup), make sure that your internet router can handle WPS.
3

List of compatible printers.
a. To access a list of compatible printers, go to "Settings" and click on the "Printer" window. Welcome to your printer's control panel.

b. Click on "List of printers".
In the "List of printers" section, click on the "List of printers" .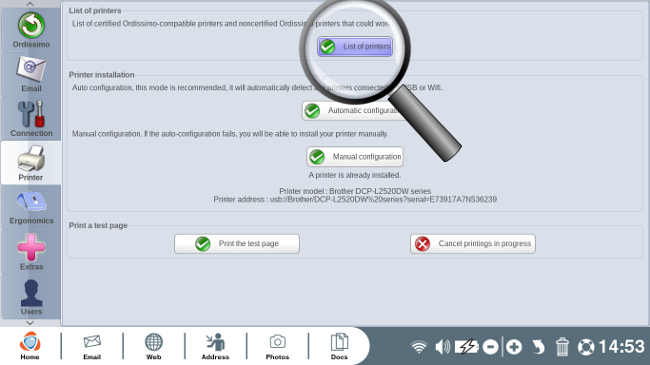 c. List of compatible printers.
A web page listing all of the "Printer drivers available for your Ordissimo" will appear.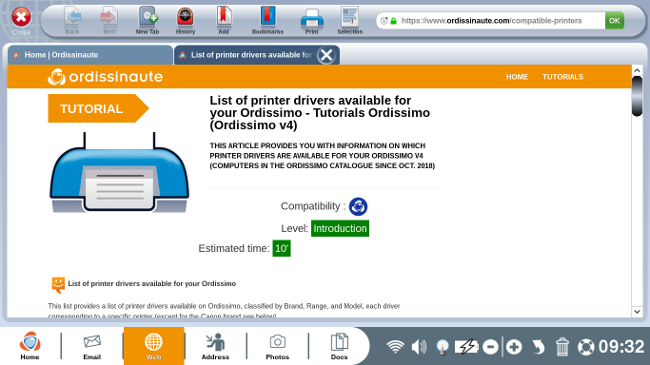 Printers that have been tested and proved compatible with Ordissimo are called certified.
d. Access the entire list.
To access the entire list of compatible printers, scroll to the top of the list using the scroll bar in the right of your screen. From here you'll have access to a second scroll bar, just right of the list, allowing you to browse through the full list of compatible printers in alphabetical order.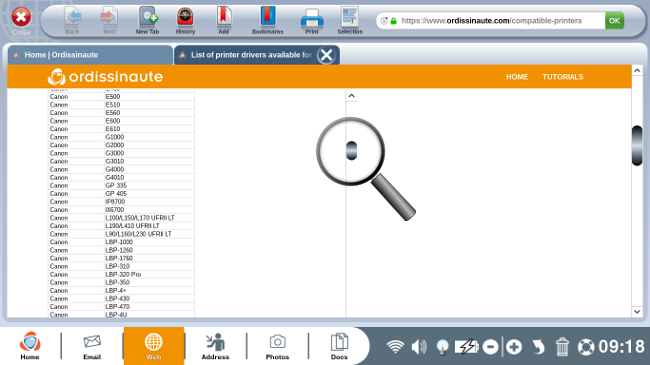 4

Ordissimo's advice.

Ordissimo has selected several multifunction compact printers that are elegant,simple to use, and very reasonably priced. These printers can be connected to your Ordissimo via USB cable or directly to your internet router via wifi or ethernet cable. Find them here :
Now you have every assurance of choosing the right printer !