Watch a DVD - Tutorials Ordissimo (Ordissimo v4)
---
Compatibility :

Would you like to watch a DVD on your Ordissimo? It's simple! With an Ordissimo laptop you can watch DVDs anywhere...
Two possibilities :
a. You own an Ordissimo with a DVD drive. After clicking on the button to open your DVD tray, simply place the disk inside.
b. Your Ordissimo does not have its own DVD drive, in which case you'll need to plug an external DVD drive into one of your Ordissimo's USB ports.
1

Insert your DVD.

While on your Ordissimo home screen, insert your DVD.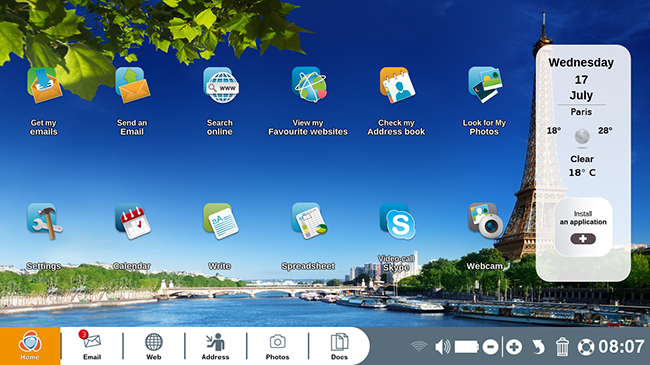 2

DVD menu.

The DVD menu appears on the screen automatically. A menu bar also appears each time you move your cursor.
To adjust volume, click on the intended cursor and slide it to the left or right. You can also click on the megaphones with the "+" and "-" symbols to raise or lower the volume by 10%.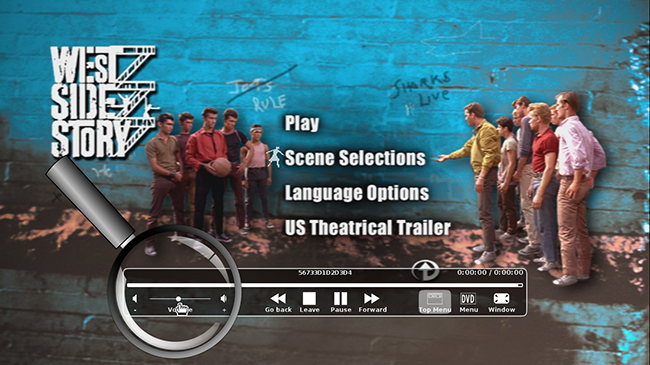 3

Move the menu bar.

To better see the DVD menu, you can move the menu bar.
| | |
| --- | --- |
| Click on the "Top button" icon to raise the bar in order to better see the DVD menu. . | To move the menu bar back down, click on "Bottom". |
| | |
4

Start the film.

To begin watching the film, click on "Play".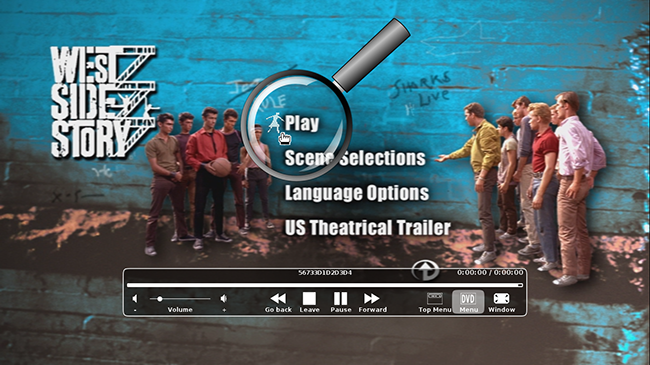 5

Show the DVD menu.

You can return to the DVD menu at any time by clicking on the "Menu" button located on the menu bar.

6

Change language settings.

a. Click on "Language Options".
To watch the film in English, go to the DVD menu and click on "Language Options". Depending on the DVD, the title of this feature may vary (Languages, Versions, Audio).


b. Choose desired language.
A list of available languages will appear.
| | |
| --- | --- |
| Click on "Spoken Languages" to select your language of choice. Some DVDs come with a subtitles option. | Then, click on "English" to select your language. Return to the DVD menu to start the film. |
| | |
7

Exit "Full screen" mode.

You can exit full screen mode at any time in order to access your other Ordissimo applications.

8

Fast forward or rewind.

You also have the option of skipping forward or going backwards 30 seconds in the film.

Note: some DVDs let you go forward or backward by scene (this option is represented by a double arrow with a vertical line).
| | |
| --- | --- |
| Click on the "Forward" button on the menu bar to skip forward 30 seconds. | Click on the "Go back" button to rewind the film 30 seconds. |
| | |




9

Pause the film.

The menu bar also lets you pause the film.
| | |
| --- | --- |
| Click on the "Pause" button. | Ready to start watching again? Click on the "Play" button. |
| | |



10

Exit the DVD player.

If you'd like to stop watching the movie, click on the "Leave" button on the menu bar.


Have a nice break by watching a movie...

Little quiz : how many films have you watched since you've had your Ordissimo?