Memorissimo USB 64 GO User Manual - Tutorials Ordissimo (Ordissimo v4)
---
Compatibility :

Let's see how to transfer documents onto your Memorissimo USB 64 GO.
If there are multiple user accounts on your Ordissimo, only the presently opened user account will be saved. To save other accounts you must be connected to them.
NEVER format your Memorissimo. All your data would be erased and the Memorissimo would be unusable.
1

Update your Ordissimo.

Go to the "Settings" and click on "Update" to check that the last update is installed.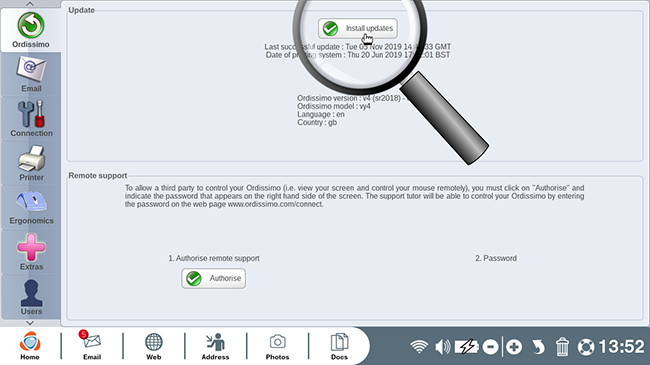 2

Connect your device and it's ready !
To begin, simply plug your Memorissimo into one of your computer's USB ports. These ports are located on the right or left side of my Ordissimo. Your ordissimo will immediately recognize the Memorissimo and allow you to access its various functions.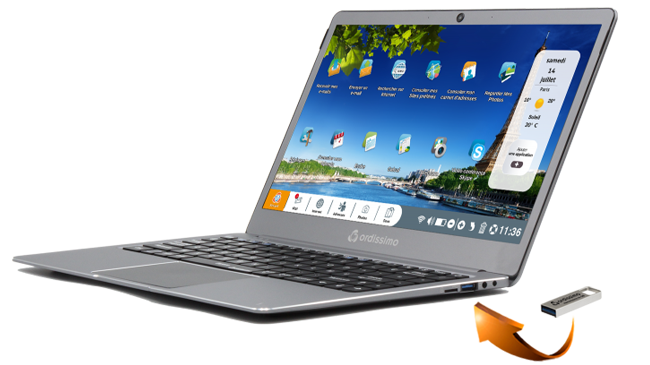 3

Saving your data..
| | |
| --- | --- |
| a. On the home screen, click on "Docs". | b. A new directory is available in "Docs" : "Memorissimo". |
| | |
Once your Memorissimo is connected, begin by saving the contents of your ordissimo.
| | |
| --- | --- |
| c. Click on the "Save" button. | d. A window will appear saying "Backup in progress...". Wait as all files are backed up. |
| | |
Don't disconnect the Memorissimo or turn off the Ordissimo.
e. A message will appear at the top of the screen : "Backup has been carried out successfully. You can now unplug the Memorissimo drive."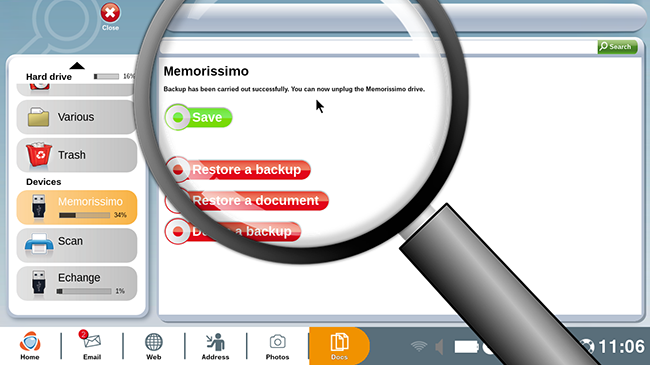 This step can take several hours depending on my data.
With « Memorissimo » you can save all of your Ordissimo account information: not only files but settings, favorites etc.



4

Completely restore the computer.
Restoring allows you to bring back one or more files that were accidentally deleted or to completely restore computer data from the past. Restoring is particularly useful when you need to transfer data from an old computer to a new computer.
a. If you'd like to completely restore the computer, click on "Restore a backup".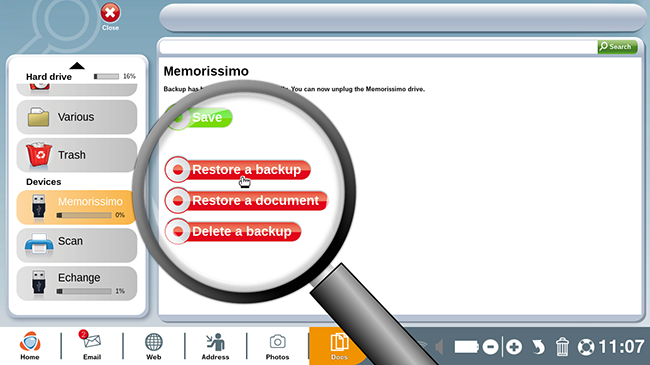 b. In this manner you can choose the data set you'd like to restore by clicking on the date it was saved. Once you've selected the backup (it should be highlighted in blue), click on "Restore".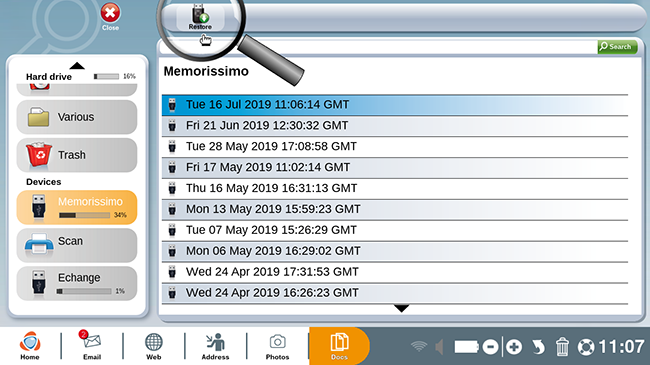 c. A confirmation message is displayed. By clicking on "Yes" you will load the data from your Memorissimo on your Ordissimo.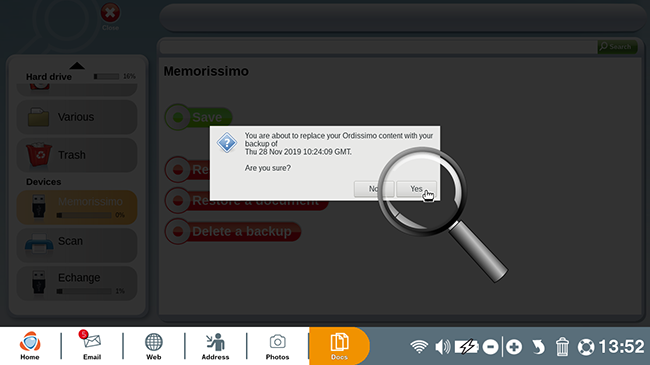 Your computer will adopt all computer settings from the date of the chosen backup: settings, files... But be careful! Anything that has been saved since the date of the backup will be lost.
5

Restore a document.

a. To restore a document (for example you've accidentally permanently removed a photo from your trash bin), click on "Restore a document".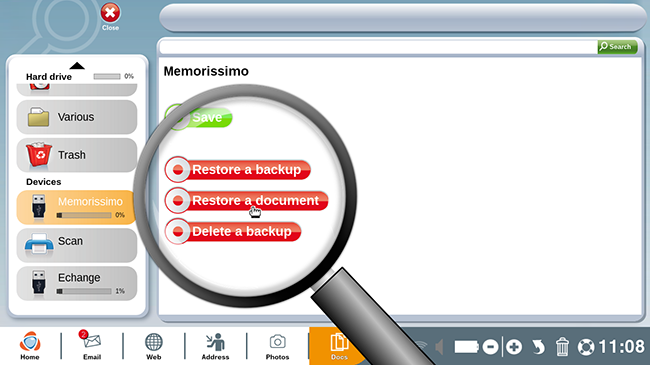 b. By clicking on the particular file, you can restore it to your Ordissimo.
After selecting the document you'd like to restore, click on "Restore".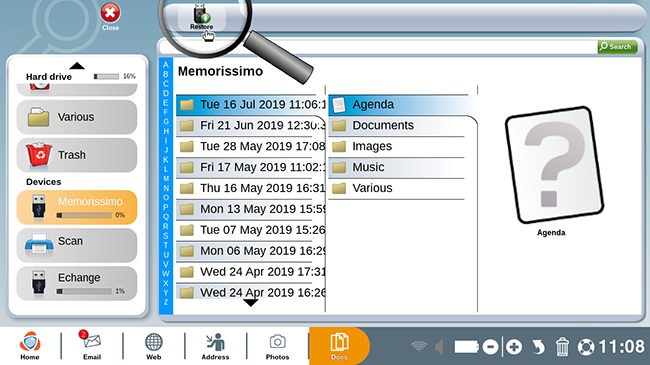 When restoring contacts or bookmarks, it's impossible to bring back one at a time. Instead you will restore all contacts or bookmarks from an earlier date, deleting any that have been added in the meantime.
We would advise you to regularly back up your files in order to ensure that all your data is protected!